The picture above is a screen-grab of a story that's doing the rounds on the web and on Facebook. You can see why people share it – it's a heartwarming tale and we can all learn from its lessons of seeing the good in ourselves and practising forgiveness. But there is another – slightly less obvious – lesson here…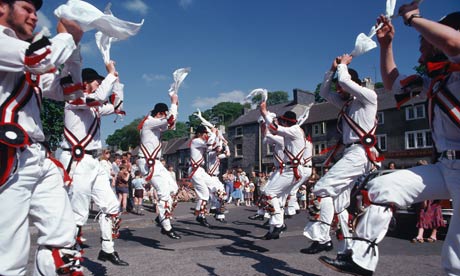 If I wrote a story about a custom from some 'European People' and then illustrated it with a picture of a different 'European People' engaged in an unrelated custom – e.g. showing a picture of English people Morris Dancing to illustrate a story about the Portuguese Fado, everyone would be up in arms.
Yet in the original piece the quote below the photo says 'I was recently told of an African tribe'.
Which African tribe? The picture shows the Maasai. But the ritual shown is the Adumu, a coming of age ritual for Maasai boys/men, that has nothing to with the forgiveness story described.
So I looked around the internet and found lots of versions of the story that didn't say 'an African Tribe', but rather that it was a forgiveness custom performed by the Babemba people of South Africa. Not the Maasai of Tanzania and Kenya at all.
For example, the story is quoted by the American author Alice Walker in her book We are the ones we have been waiting for. And it is expanded upon in more depth in the Tennessee local newspaper, The Chatanoogan.
Trouble is, there's no Babemba tribe in South Africa. The Bemba (or Babemba, meaning people of Bemba) come mainly from Zambia, to the north of South Africa. You can read more detailed information about their practices and customs here and here.
There's very little about this custom anywhere that I have looked that isn't just paraphrasing the version of the story as seen in Alice Walker's book. However, its first reference appears to be from way back in 1979, in an out of print book called: Contact: The First Four Minutes, by psychiatrist Leonard Zunin. It got repeated by motivational author and speaker Dr Wayne Dyer more recently and this appears to explain its presence on a lot of self-help and positive thinking / spirituality websites.
However, there's nothing about it in either of those two more encyclopaedic and anthropological entries in the previous paragraph. Of course the absence of evidence doesn't for one second mean the custom doesn't exist. If someone finds more about it I'd love to know if any group of people, Bemba or whoever, do perform this ritual.
However, what we are left with is that currently the internet is circulating various versions of an unverified story about an African tribe that doesn't live where the story says they do and using a photo of a different African tribe performing an unrelated ritual to illustrate it.
So what, you might ask? It's a nice story, what's the harm in spreading it?
As a story, nothing. But by doing so in its current form we are also reinforcing the fact that most people in the West/North don't really care that there are many different African tribes and countries. It's easier to conceive of 'Africans' as some generic and interchangeable 'other', who can then provide us with a handy shorthand for either timeless earth wisdom when we want to be positive about 'them', or primal savagery and an inability to self-govern when we don't.
Why take the time to discover the various truths of their lived existence? It's much easier to appropriate some story – whether it is true or not – and use it to suit our own ends.