New Book: Transforming Travel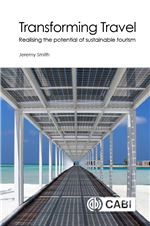 My new book is published by CABI in December 2017. Transforming Travel - realising the potential of sustinable tourism presents an urgent argument for transforming tourism so it might reach its potential to promote tolerance, restore communities and regenerate habitats, while providing a vital guide for anyone looking to develop the successful sustainable tourism enterprises and destinations needed to do so.
Responsible Travel Guidebook
I co-wrote the award-winning 'Clean Breaks – 500 new ways to see the world' with Richard Hammond (founder of greentraveller).
It's the most comprehensive worldwide guide to unusual holidays and alternatives ways to travel that make a real difference to the lives of local people and the planet.
For a preview of the book see: Clean Breaks Sample. To read a range of reviews, click here.
Selected freelance articles
             Latest posts for WTM Blog